What is Odyssey of the Mind?

Program Overview
Odyssey of the Mind (OM) is the original creative thinking program that teaches students to learn creative problem-solving methods while having fun in the process. For more than fifty years, this unique program has helped teachers generate excitement in their students. By tapping into creativity, and through encouraging imaginative paths to problem-solving, students learn skills that will provide them with the ability to solve problems — great and small — for a lifetime.

Odyssey of the Mind teaches students how to think divergently by providing open-ended problems that appeal to a wide range of interests. Students learn how to identify challenges and to think creatively to solve those problems. They are free to express their ideas and suggestions without fear of criticism. The creative problem-solving process rewards thinking beyond the box.

Each year, five new problems are presented for teams to solve. Some are technical in nature, while others are performance-based. Each long-term problem rewards Style in the solution. Teams are invited to participate in competitions and present their solution with other teams. At competition, teams are given an on-the-spot spontaneous problem to solve. The combination of long-term problem-solving, Style, and spontaneous problem-solving produces confident, able students.
In Odyssey of the Mind
Students & Teachers Will
Develop team-building skills by working in groups of as many as seven students per team.
Learn to examine problems and to identify the real challenge without limiting the possible solutions and their potential success.
Nurture their creative-thinking process and develop problem-solving skills.
Find something that will appeal to them in any interest area and experience an elevated interest in regular classroom curricula.
Teachers have a program to further provide students with a well-rounded education.
Who Participates in Odyssey of the Mind?
Students from kindergarten through college can participate in OM. Since Odyssey of the Mind is structured to eliminate the fear of criticism, even shy students are afforded the opportunity to open up and express themselves.

In the U.S., teams are categorized by grade level into divisions and compete against teams in the same division and problem. Each school membership allows schools to enter one team per problem per division. Community groups and home-schooled members may enter one team per problem.

The team must compete in the lowest division for which it qualifies. For example, if a team qualifies for Division II it cannot compete in Division III. The team member in the highest grade determines the team's division.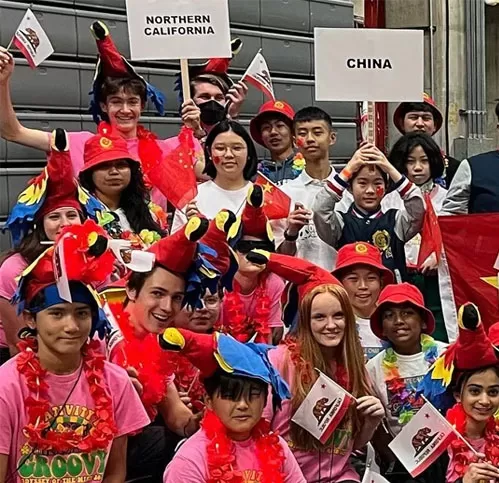 Odyssey of the Mind Divisions

Primary
Primary is a non-competitive division for the youngest participants, who may be in grades K-2. Primary problems have fewer constraints and are simpler than higher divisions. Teams present their solutions at competition, but they are not scored.
Division I
Division I consists of students in grades 3-5, although younger students may join Division I teams. Team members must be less than 12 years of age on May 1 of the year of the competition (International).
Division II
Division II consists of students in grades 6-8, although Team members must be less than 15 years of age on May 1 of the year of the competition (International).
Division III
Division III consists of students in grades 9-12. The oldest team member cannot qualify for Divisions I or II and must be attending regular school, not a college or university or anything similar (International).
Odyssey of the Mind Problems
Primary
Introduce young OMers to Odyssey with this comprehensive, fun and instructional problem.
Vehicle
Use creative and functional engineering to build an original vehicle that can perform tasks.
Technical
Build a device using engineering, electronics or robotics — the methodology is up to you!
Classics
Create a performance that puts a modern twist on the classics. Learn history by rewriting it!
Structure
Build an original structure to withstand a test of strength as it holds weight until it breaks.
Performance
Use drama, humor, original characters and crazy settings to create an original performance.
Membership Costs
A National Membership costs $290 and must be sponsored by a school, a recognized community group, or a college or university. With each membership, you receive:
Access to five long-term problems
Access to one non-competitive primary problem, designed to introduce younger students to creative problem-solving
An Odyssey of the Mind Program Guide, which provides coaching information, rules, sample spontaneous problems . . . AND MORE!
The Odyssey of the Mind Newsletter, a quarterly publication loaded with valuable program information
The opportunity to enter official competitions
A chance to attend the annual World Finals
The opportunity to win educational scholarships
Support services from International Headquarters.