You Can Make A Huge Impact This Season!
Few things make us happier than the beginning of Odyssey season in Northern California. And we don't make the magic happen alone! Many help us meet our lofty goal, including parents, coaches, volunteers and supporters like you.
What can your tax-deductible donation provide?
You can help us make the 2023-2024 season better than ever by contributing to NorCal Odyssey of the Mind today! Give now:
Every year we bring together kids of all ages, from kindergarteners to high schoolers, and watch as they grow their phenomenal creativity and ingenuity through the development of their Odyssey solution. Our all-volunteer NorCal Board is dedicated to providing an opportunity for kids to create something on their own, build lasting relationships and take pride in their accomplishments.
NorCal Odyssey strives to keep the cost of the program at the most affordable level possible. Last year we were able to serve 924 team members with the support of 1,848 parents and the help of 325 dedicated coaches and co-coaches.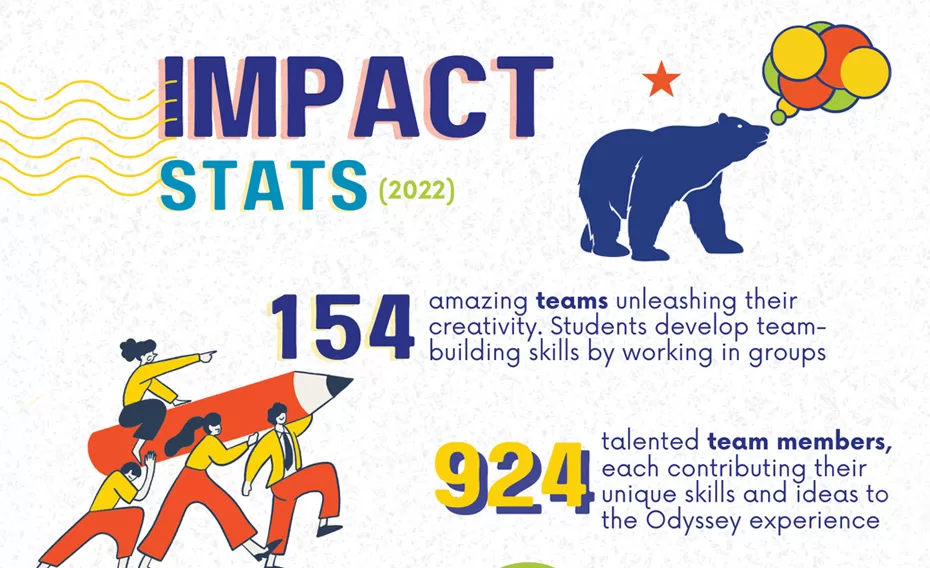 As an Odyssey of the Mind supporter, you know that children thrive when they are challenged and empowered! And we couldn't make it all happen without our volunteers and donors.
You help to make so much of Odyssey possible. Thank you. We hope you will continue your commitment to the program by making a generous gift to NorCal Odyssey of the Mind today.
Your support will help provide the infrastructure necessary to spark the creativity of children this year and help the children of Northern California to grow and change the world.
Each and every child has the potential to impact the world in a positive way, and it means a lot to continue to bring this program to them; we are deeply grateful for your continued support. Your gift today makes a big difference tomorrow and every day!
With Gratitude,
Cameran Haire
Membership and Fundraising Director